Château Valmont, Corbieres' wines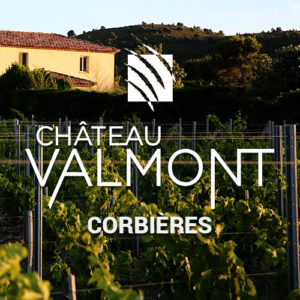 In 2015, the young generation of the Ruhlmann-Schutz Family acquire a vineyard located in the South of Narbonne, on the municipality of Peyrac-de-Mer. The ambition is really simple : produce quality red wines from Corbières that will successfully complete the plentiful collection of great Alsacians wines.
In the sea sided Corbières, near from the Bages' ponds and between the garrigues and the pines forest, Château Valmont is a growing vineyard that covers now 28 hectares, including 10 hectares newly implanted. Since we're established, we have begun the conversion to organic farming.
Today, we are finishing our third vintage and propose you 3 exceptional "cuvées" :
• Aventure : the perfectly representative cuvee from Corbières, the fruitiness of the blueberry and blackberry, fresh with soft tannins.
• Signature : jewel of the Château Valmont, we provide a particular attention to this exceptional and limited cuvee.
• Rosé : fruity, fresh, this rosé is the perfect companion of your summer's evenings.
Bonne dégustation !